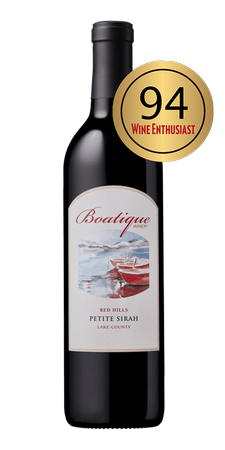 2016 Boatique Winery Red Hills Petite Sirah
Lake County
Seriously Worth Every Cent (57% OFF)...Major Caliber Winemaking, Inky Black Hue, Dense Concentration, and Dusty Tannins. A Six Pack for $72 and Never To Be Seen Again.
It's safe to say this wine is the finest quality we've ever seen coming from the Red Hills!
Boatique Winery is located in the picturesque Red Hills AVA at 2266 feet above sea level. Their 47 acres of rolling vineyards are scattered between alpine and oak forests. The combination of rich volcanic soil, high elevation farming, and some of the cleanest air in California are what make the Red Hills Appellation famous for yielding grapes with thick skins and greater tannins, which in turn produce intense wines. Located on the valley floor, nestled in the Big Valley Appellation.
Wine Specs
Appellation
Red Hills Lake County